Macatawa Bay Boat Works Premium Restoration
Macatawa Bay Boat Works has completed and delivered this 1936 Gar Wood 20' Utility in May of 2008. Pictured below is the completed restoration with rebuilt original Chrysler 6 Cylinder engine, new MBBW Spanish Red leather interior with correct diamond button pattern filled with kapock and horse hair stuffing. MBBW did a total restoration on the boat including a new no-soak 3M-5200 double bottom, new keel, chines and all new frames, new decks, covering boards, shipsides, dashboard, show quality stain, varnish and paint throughout, all mechanical systems restored and new floor covering. The boat sits well on its new MBBW Classic Trail custom inboard trailer.
The boat will be used by its owner in the Harbor Point, Michigan area.
MBBW faired the all original and amazingly tight hullsides by hand with long board sanding to the point that individual hull planks are undetectable.
The gold leaf name on the transom was retained, "Murphy's Law" applied upside down by the previous owner after the boat sank for several times and was found lying belly up on the bottom of the lake. With its new MBBW no-soak double bottom, this will no longer be a problem.
New MBBW Spanish Red leather interior with kapock and horse hair makes the boat look period correct and very rich.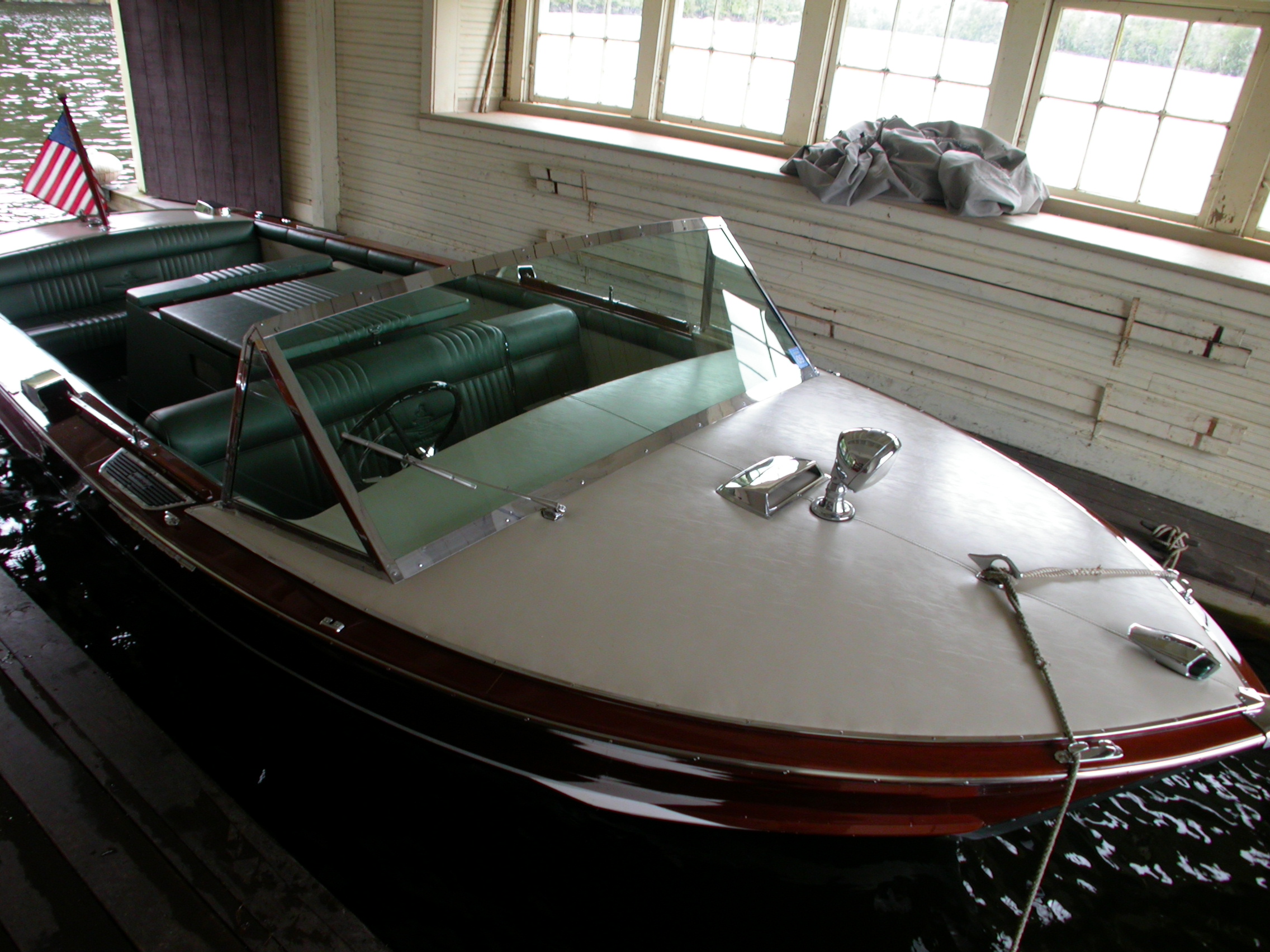 With the original 1936 Engine restored by CD's Engine Repair of Hudsonville, Michigan, she is a good runner and exceptionally quite and smooth at idle.
SEE MORE: click here to see more in progress restoration photos of this 1936 Gar Wood
Contact us today to see what we can do to help with your restoration project.
click here: to see restoration projects by MBBW

Macatawa Bay Boat Works
297 S. Maple Street Saugatuck, Michigan 49453
Phone: (269) 857-4556 Fax: (269) 857-4218
e-mail: sales@mbbw.com
Home Contact Info Premium Restorations Marine Grade Leather Marine Engines & Installation Custom Trailers Classic Boat Brokerage Work in Progress Company History Completed Boats & Their Owners Links